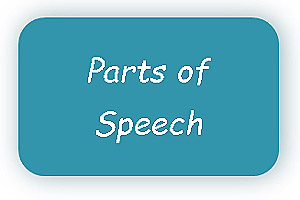 Parts of speech is the classes of word it is also known the eight main categories of parts of speech it is divided into sub-classes, it is help full to understand structure of the sentence and make them meaningful.
Below are the eight Parts of speech
Noun:
Describe the things, place, person etc
England,Julian,Building, Car,Dog, Elephant.etc.
Pronoun:
Pronoun utilize instead of Noun, and avoid repetition of noun in the sentence.
He, she, I,Me, We Us, Them,
types of Pronoun are:
a) personal pronoun
b) Demonstrative Pronoun
c) Distributive Pronoun
e) Interrogative Pronoun
f) Relative Pronoun
g) Indefinite Pronoun
h) Reflexive Pronoun
i) Reciprocal Pronoun
3) Adjective:
Types of Adjective are:
a) Descriptive Adjectives
b) Adjective of Number.
c) Demonstrative Adjective.
e) Possessive Adjective.
f) Interrogative Adjective.
g) proper Adjective.
4) Adverb:
Adverb is a word that modify a verb,  adjective Adverbs typically express manner, place, time, frequency, degree, level of certainty, such as
How
where
when
how much
how often
5) Verb:
Verb is a word that define an action in syntax or in sentence, without Verb sentence cannot be completed.
a) Principle or Main Verb:
Transitive Verb.
Intransitive Verb.
b) Auxiliary Verb (Helping verb)
Primary Auxiliary.
Modal Auxiliary.
c) Finite Verb:
d) Non-finite Verb:
6) Preposition:
Preposition is a word used to link nouns, pronouns, or phrases to other words within a sentence,types of preposition are as:
a) Simple preposition.
b) Compound preposition.
c) Double Preposition.
d) Participle Preposition.
e) Phrase Preposition.
7) Interjections:
Interjection is expresses human feeling, emotions,etc
a) Interjections for Greeting – these include: Hello! , Hey! …
b) Interjections for Joy – these include: Hurrah! , Hurray! …
c) Interjections for Approval – these include: Bravo! …
d) Interjections for Surprise – these include: Ha! …
e) Interjections for Grief/Pain – these include: Alas!
8) Conjunction:
a) Coordinating  Conjunction. For, and,nor, but,
b) Subordination Conjunction.After, Although, as
c) Correlative Conjunction.Either, or, Neither..Nor